In 2005, Peru was the top producer of silver with almost one-seventh world share, closely followed by   Mexico, according to the British Geological Survey. Peru and Mexico have been mining silver since 1546 and are still major wold producers. Many juniors are actively exploring for silver in both these countries.
Further north in states like Montana and Idaho, silver is the history of these places. Like so many place around th globe had it not been for mining the towns and cities would most likely never been built.
Even further north across the border into Canada, silver was the metal throughout the southern British Columbia interior. Places like Nelson, Kaslo and Silverton were founded on silver. That trend continues north even further into the Yukon Territory to places like Keno City and Galena. It is really to bad that silver doesn't get the credit it deserves.
---
Penny Silver Miners & Explorers
There are a lot of junior miners that have silver properties in their portfolios. Pretty much any junior that has some precious metal property will have exposure to silver in some degree. But there are some who have a core holding of silver. At junior miners here we are more inclined to follow the little guy. The smaller and unheard about explorer. Some of our favourite silver miners are:
USA Silver (TSX-V: USA)  USA
Wildcat Silver (TSX: WS)  USA
Silvercorp (TSX: SVM) China
Silver Wheaton (TSX: SLW) Worldwide
---
The live silver price is show below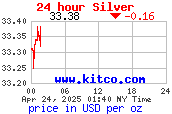 One question we hear alot is, "Is silver a good investment." At around $35.00 an ounce at the time of this writing and with gold a bit over $1500 an ounce you can see why silver is called the "poor mans gold." In the past 5 years as you can see by the small chart here, silver has gone up more than 300%. Gold on the other hand had a low of $250 in the past 10 years and is at around the $1850 US mark, so that would give you a bit more than 700% return. Thus far silver has outperformed gold in percentage terms.
Silver is easy to buy and easy to sell. The nice thing about silver is that it is affordable. For anyone who is tossing the idea of buying but feel the top in price is near, think again! Gold in 1981 hit $850+ and silver hit $40+. Well gold is already back at its historic highs and silver is still in the teens. (These prices haven't figured in inflation for the past 30 years). Silver could easily double in price. Silver is more than a metal. It is also a currency and that currency is good anywhere in the world. Like gold it never really looses it's value.  But silver, like gold holds its value in any currency world wide. This is where the value lies. Silver is an asset.
Anyone who follows the junior mining companies with any kind of interest is bullish on commodity prices going forward. Silver is no exception to that rule. There is a world wide shortage of new silver. Places like China, India and the far East are expanding and seeing prosperity. These people all want consumer goods and silver is used in almost everything –  jewellery, electronics, medicine. The list goes and on. This also creates a supply and demand issue. With world politics and terror issues there is global uncertainty. This too is positive for silver.
Owning silver is as simple as buying silver coins or ingots. Coins that sell in 1 ounce piece are readily available from most banks or coin dealers. Ingots in the 1-10 ounce piece are a bit different. They can be bought by various online vendors but most want a minimum $1000 order. If you don't have the $1000 you may have to buy the smaller pieces but then most charge added fees, shipping cost, handling etc.
There are places online that you can buy silver coins for investment.